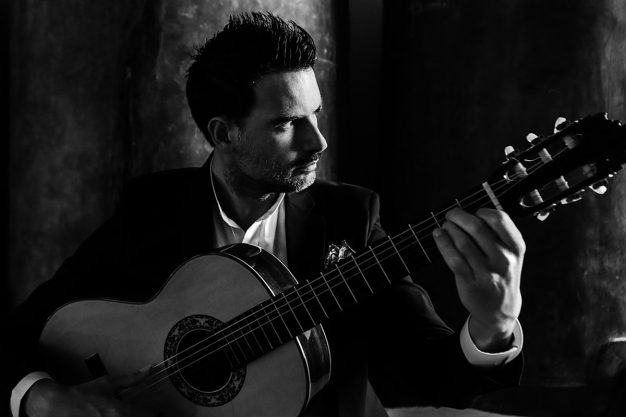 Carlos Piñana: Flamenco-Gitarre
Miguel Ángel Orengo: Perkussion
Carlos Piñana has found his personality and his place in the world of Flamenco music. It represents a significant step forward in the successful syncretism between his both classical and flamenco education. In a few words, Carlos Piñana is very complete and covers nearly all the trends that flamenco guitar is developing at the moment, which says a lot about Carlos' preparation and work capacity.
There is a fact that brings together all his compositions, they sound like Carlos Piñana. They are all pervaded by the lyricism of the romantic conception of a dreamer and an idealist, who has chosen flamenco guitar as a way to express himself. Carlos Piñana reveals himself as a guitarist of outstanding inspiration, capable to unite several virtues like technique, composition and dynamic with wise and balanced deliberation, restraint, exquisite taste in his esthetic criteria, and fervent sensibility without falling into sentimentality.
Carlos Piñana is perfectly able to sustain his position in the illustrious avant-garde group of flamenco guitarists to which he belongs honoris causa.