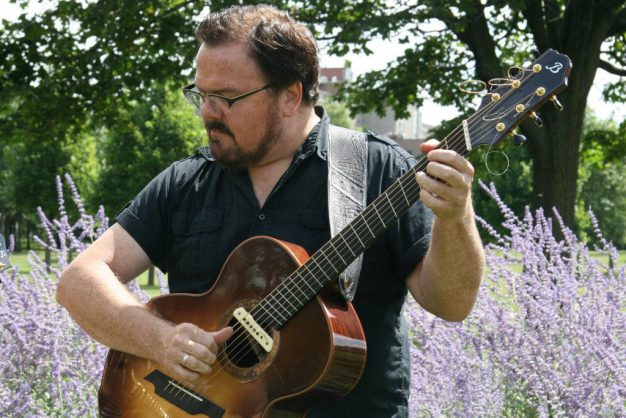 One of today's true innovators of guitar composition and technique, Don Ross has emerged as
one of the most respected musicians in Canada and one of the top guitarists in the world. In
September 1996, he managed to do what no other player has done: win the prestigious U.S.
National Fingerstyle Guitar Championship for the second time (he first won in 1988). The son
of a Scottish immigrant father and a Mi'kmaq aboriginal mother, Don was born in Montreal
in 1960 into a musical family. He first started experimenting with the solo possibilities of the
acoustic guitar at the age of eight.
Don graduated from the Music Department of Toronto's York University in 1983. After his first
win at Winfield, Don was asked to sign with Duke Street Records. He recorded three CDs for
Duke Street over the course of the next four years: "Bearing Straight", "Don Ross" and "Three
Hands". The CDs met with unanimous critical acclaim and numerous tours across Canada and
the U.S. Don even played at the Montreux Jazz Festival in Switzerland.
Don signed a new recording deal with Columbia/Sony Music in 1994, releasing his first album
for the label, "This Dragon Won't Sleep" (1995). 1996 Don released "Wintertide".
Don's recording, Huron Street (2001) was reaching even the Top Ten on Billboard's
New Age chart in 2001. The following CDs were "Robot monster ", "Music for Vacuuming "(on which Don Ross plays all instruments by himself like drum kit, percussion, slide dobro guitar, piano, and electric bass in addition to regular-pitched and baritone guitars on some tracks), "Live in Your Head "and "the thing last that came from somewhere ", which he took up in the year 2008 together with his friend Andy McKee.
Don continues to do extensive touring in Europe, Canada, the United States and Asia's Pacific Rim.
donrossonline.com