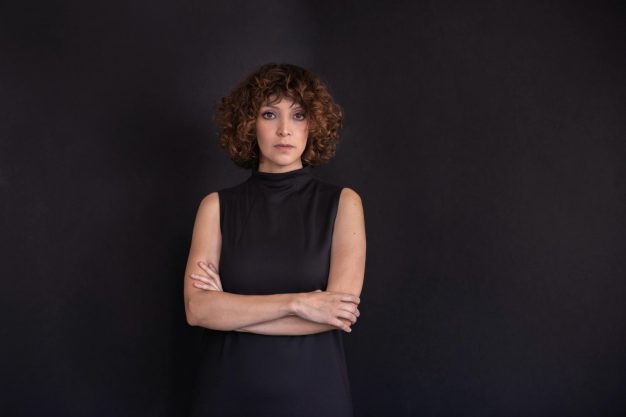 Armed with a warm, soulful sound, GRAMMY Award winning Singer-Songwriter Gaby Moreno continues to create music that offers an intoxicating invitation into her musical world for English and Spanish speakers alike. "It was always natural to me to create music using both languages because I speak both in my everyday life," notes Moreno. "I just couldn't turn my back on one or the other. I'm proud of my Latin roots, of being a Guatemalan immigrant. I love how languages have the capacity of connecting with so many different cultures and people. But in the end, it's the power of music that speaks to all of us and brings us together."  In 2020 she produced, co-wrote and sang the duet "Bolero a La Vida" with legendary Cuban singer Omara Portuondo (Buena Vista Social Club), receiving a Latin GRAMMY nomination in the "Best Tropical Song" category.
Gaby Moreno also produced six songs for Portuondo's upcoming album set to be released later this year, featuring duets with Ruben Blades, Keb Mo and Dionne Warwick. Since moving to Los Angeles from her native Guatemala, singer-songwriter-producer Gaby Moreno has released six albums, earned a GRAMMY nomination for her album Illusion (Best Latin Pop Album, 2017), received multiple Latin GRAMMY nominations and won a Latin GRAMMY for "Best New Artist" in 2013. Her moving version of the classic song "Cucurrucucú Paloma" was chosen to play at the end of the emotional episode "God Bless America" for the last season of Netflix' original show, "Orange Is The New Black." Over her career, Moreno has shared the international stage with pop music luminaries such as Bono, Andrea Boccelli, Tracy Chapman, Ani DiFranco, Punch Brothers, Hugh Laurie, Buena Vista Social Club, Calexico, David Gray and many more. Her 2019 album, ¡Spangled! – a collaboration with musician, songwriter and arranger, Van Dyke Parks – is a set of ten songs celebrating the migration of music across the Americas and spans more than a century, including a bolero from Panama, a bossa nova from Brazil, and an elegiac ballad from Southwestern United States. The album features a duet with Jackson Browne and an art cover designed by Klaus Voormann (who designed The Beatles' Revolver cover). Gaby was also chosen to sing the theme song and voice a character (Marlena) on the multiple Emmy Award-winning Disney children's television series, "Elena of Avalor", which features Disney's first Latina princess. More recently, she composed all the music for the movie "Language Lessons," directed by Natalie Morales and cowritten/starring Morales and Mark Duplass. Whether it's writing and composing for film/TV, producing other artists, finding her place in the voiceover world or working on her own music,
Moreno remains fully immersed in music.