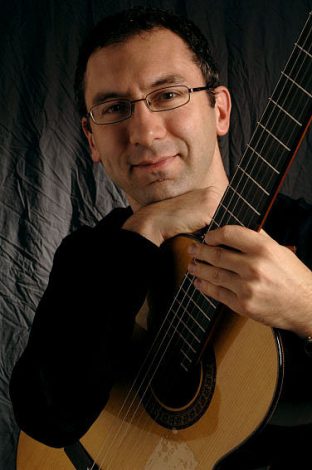 Giampaolo Bandini
GiampaoloBandini – Cesare Chiacchiaretta Duo, guitar and bandoneon, formed in 2002 pursuing
the clear aim to propose Argentine music through the charm and magic of its most representative
instruments. The duo immediately became an important point of reference in the international
concert circuit thanks to their great communicativeness joined to an extraordinary charisma. Invited
by the most important festivals and theatres in the world, they have toured in more than 50 countries
outstanding critical and audience approval.
The duo had the privilege to play Astor Piazzolla's Double Concerto "Hommage a Liegi"
conducted by Maestro Leo Brouwer. The great cuban composer has also dedicated to them "La
Folia a Traves de los siglos" in 2017.
Others important composers wrote original compositions for them, among the others Daniel Binelli,
Fernando Tavolaro, Saverio Rapezzi, and Maximo Diego Pujol, who dedicated to them the Double
Concert for guitar, bandoneon and orchestra "Luminosa Buenos Aires" (2009).
Their peculiarity of living music to the full and without boundaries leads them to work together
with prominent artists such as Fernando Suarez Paz, Avi Avital, Salvatore Accardo and many more.
They have recorded for the most important radio and television broadcasters in Italy and abroad.
In 2016 they had their debut for the Decca label with the CD Escualo, hommage to Astor Piazzolla.
As teachers, they are requested by the most renowned Academies and international Universities and
hold classes at the Institutes of Higher Education "Luigi Boccherini" in Lucca and "Umberto
Giordano" in Foggia.