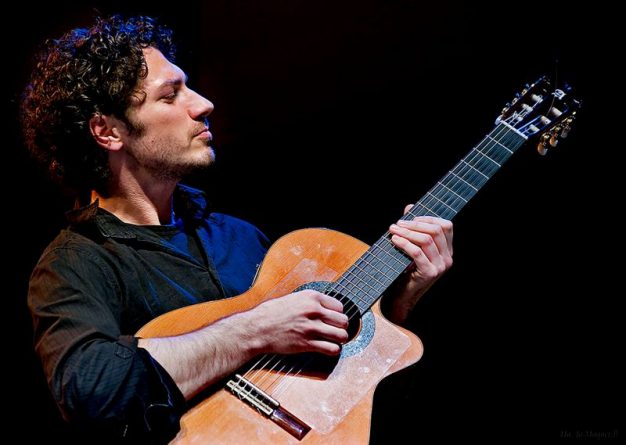 Reentko
a guitarist, composer and producer. He writes music for movies, artists of the
Cirque du Soleil and the Semperoper Ballet. He is a member of the EUROPEAN GUITAR
QUARTET (among Zoran Dukic, Pavel Steidl and Thomas Fellow) and appears regurlarly in his
own show on German TV. he has worrked with musicians such as YoYo Ma, Ksenija Sidorova,
Giora Feidman and German Pop acts like Yvonne Catterfeld, Andreas Bourani or Tim Bendzko.
His music is a distinctive blend of unorthodox, self-developed percussive playing techniques
covering a wide range of styles. He is one of the few guitarists who can claim to be every bit as
much in demand in the classical world as in the pop and world music scenes.
Born in Bad Gandersheim (near Göttingen) in 1979, Reentko first took guitar lessons at the age of 7
– this despite the fact that he had actually wanted to take drum lessons. In 2000 he moved to
Dresden to study "Guitar/World Music" . 2007 saw him become a professor at the music academy.
Many of the performers he now plays with are musicians he met during his studies, a period during
which he came into contact with jazz, flamenco and music from outside of Europe. He also spent
half a year in Jerusalem in order to become more acquainted with the region's Arab music.
Some of his projects have also received awards (a.o. Special Prize "European Guitar Award",
Germany Cabaret Award). His debut CD "Sounds for the silver screen" was partly a collaboration
with Hollywood composer Richard Horowitz, his second CD "Le Cirque" got nominated for "Best
German CD of the Year".Performances and workshops have taken Reentko to concert halls and
festivals all around the world, such as Carnegie Hall New York, Concergebouw Amterdam and
Tchaikovsky Hall Moscow.