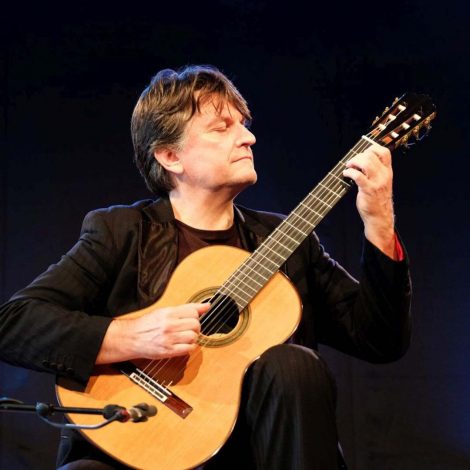 Known as one of the best Austrian guitarists, Michael Langer shows the stylistic variety of his instrument as musician, teacher, composer and author. With big innovative energy and artistic interest, he is on his way with the new generation of "complete musicians", who take working with a variety of genres as artist, composer, arranger and teacher for granted.
Michael Langer is not only known as a virtuoso and for his emotionally touching ballads, but he also knows how to touch his listeners with stylistic sense and musical skills. There are few guitarists, who play as a soloist with orchestra on the stage of the Große Musikvereinsaal and at the Chet Atkins Convention in Nashville as well. With nearly 30 books, Michael Langer is not just one of the most hard-working, but due to the sale figures and his purchasers, one of the most successful authors around Germany and Austria. He has a professorship at the Anton Bruckner Private-University in Linz and the Conservatory of Vienna.
Michael Langer was born in 1959 in Vienna, discovered music as a self-taught, passionate and very loud rock guitarist, but suddenly fell in love with classical guitar. He enrolled at the Conservatory and the University of Music in Vienna, took part at various international master classes, joined different stylistic ensembles, won competitions, various diplomas and certificates. Besides his continuing interest for the aesthetics as well as technical developments of classical guitar, his work as an arranger and composer grew more and more important, and so did his interest for the various options of pop music on the guitar. As a creative musician he was fascinated about playing fingerstyle on the classical guitar. Several international prices followed. Michael Langer won the "American Fingerstyle Guitar Festival" in Milwaukee and was called the "Best Acoustic Fingerstyle Guitarist" in the "Ultimate Guitar Competition" by the US-Magazine "Guitar Player".
Michael Langer toured USA and many European countries. He was invited to Festivals like the Chet Atkins Convention Nashville, the guitar festival Nürtingen, the LIGITA Liechtenstein, the Open Strings Festival Osnabrück, the Bath Guitar Festival, World of Guitar Leverkusen, the Guitar Festivals in Torino, Wetzlar, Tychy and many more.