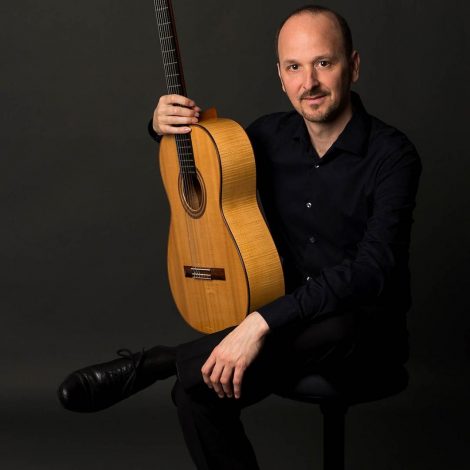 Dear music lovers!
I am very pleased that the Hersbruck International Guitar Festival has become a a permanent fixture in the festival calendar. In accordance with my my own artistic direction it was important to me from the very beginning, that the festival should combine a variety of diffent styles. Openness to different styles of music and artistic trends, as well as encounters with the old and the new, should transform the festival, each year anew, into a creative melting pot, a place for communication and discussion for musicians, music students and music lovers from all over the world. The extremely positive response to world premieres of works by contemporary composers and exciting concerts full of contrasts with progressive music confirm this idea.
Magical powers have been ascribed to the plucked note for centuries. So David's harp cheered Saul's heart, and drove away his sad feelings. From Greek mythology comes the story of Apollo, who by plucking the strings of his instrument, helped build the walls of Troy. Each year the sound of the guitar gives a new lustre to the home of the festival, and has helped Hersbruck to be seen as a cultural centre beyond the borders of Germany. Many great musicians and guitarists such as as Pepe Romero, Los Romeros, Los Angeles Guitar Quartet, Al Di Meola, Giora Fidman, Tommy Emmanuel, David Russell, Eliot Fisk, Leo Brouwer, Alvaro Pierri, Manuel Barrueco, David Russell, Eliot Fisk, Badi Assad, Klaus Doldinger or Gerardo Núñez – to name just a few – have delighted audiences in Hersbruck in recent years. For young musicians who like Diknu Schneeberger, or Brazilian Yamanda Costa were just at the beginning of a great career, our festival was an important place to bring their art to a wider audience. Even world-famous artists such as Carlos Barbosa-Lima or Bill Kanengiser have played their German debuts in Hersbruck.
In addition to the concerts, which are held in all parts of the town, there are exhibitions, lectures, sessions, master classes, workshops and private lessons taking place in the AOK Festival Centre throughout the whole week. This programme is complemented by an educational programme, offered in association with the "Hersbruck Music Academy (HMA )", which is aimed at music teachers and other interested people. Under the HMA, internationally renowned lecturers cast light on the latest scientific and educational knowledge in the field of musicology, music psychology, music medicine or music practice in lectures, workshops and seminars.
I look forward to many more inspiring festivals relating to the guitar in accordance with our motto: "Music unites".
Johannes Tonio Kreusch